So STAR Hunter Studios seems to really be trying to make a bigger name for themselves. STAR Hunter Studios is a movie/television studio in Thailand and they are the ones that house and promote SBFive; 5 out of 6 of the original cast of 2 Moons the series. They have just recently put out a new web series called The Moment I Need You and the last episode just aired today, Feb. 14th (I am pre-writing this before I post it).
I figured I would give it a try because…well…why not? And I am happy that I did. The series is very short, having only 4 episodes and each episode ranges from 9 mintutes to 15 minutes. I found myself wishing the episodes were longer so that we could get more development of the story and the characters.
There are three main characters: Boston – the owner of a super nice hotel resort, Bay – the bartender who works at the hotel, and Mok – the veterinarian and a guest at the hotel. Boston secretly likes Bay. But Bay and Mok have feelings for each other so the episodes follow their development.
Mok comes to the hotel for a much needed vacation and comes to the hotel's bar one night for some drinks. He ends up getting really drunk and causing a ruckus. Bay, the super sweet bartender that he is, escorts Mok back to his room for the night. We soon find out that Mok is getting over a break up which is why he got so drunk.
Because he's so sad, Bay makes a deal with him that he can make him smile 10 times during his stay. If he doesn't, Mok can feel free to leave him a bad review about how terrible of a bartender he is. Mok agrees and the episodes follow the moments they spend together, the conversations they have, and the development of their feelings for each other.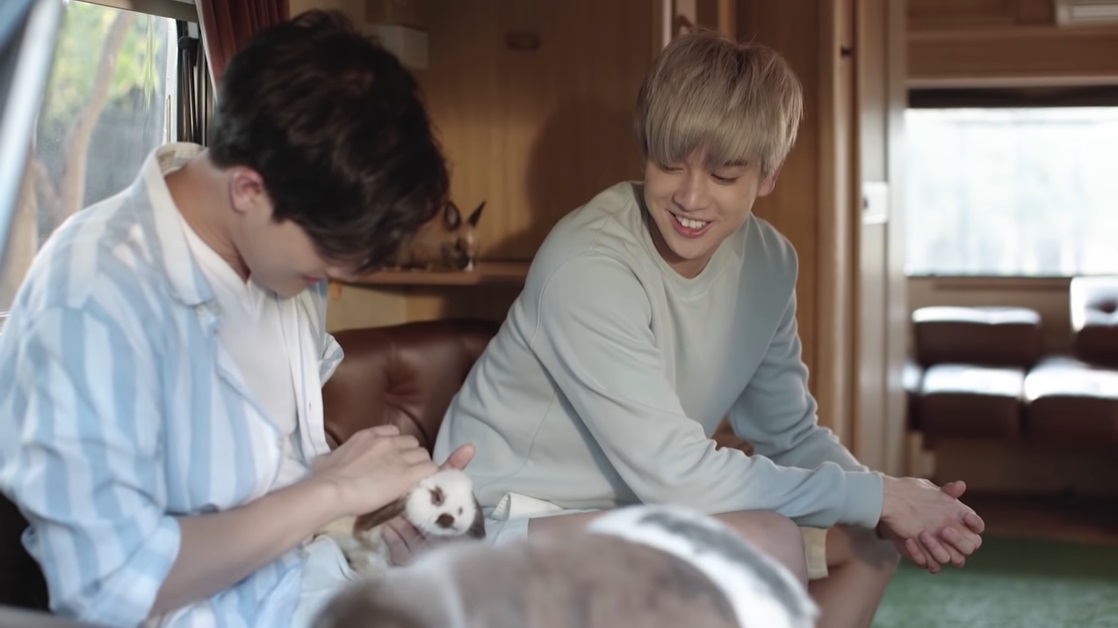 It's a quick-paced series. With only four episodes, it kind of has to be. But it is cute nonetheless and leaves the viewer with a sweet, warm feeling on the inside. I don't want to call it fluffy, because it wasn't really. But it was still a very sweet series. I hope the studio can develop this into a full-length series or create more series in the future.
These short episodes are perfect for watching in between series when you need a brief break. I definitely needed this because I am in the middle of watching Dark Blue Kiss at the moment and my feelings are too intense right now lol. So this was the perfect little series to calm me down.
I also really liked how the characters in this were a bit older. They were not high schoolers in those horrible blue shorts nor were they engineering students. They were working adults in their 20s and that is much more relatable and enjoyable for me as I am also a newly working adult in my 20s.
While some scenes play up the whole BL thing such as the scene above, I appreciate how things between the two main characters were not overly rushed. I hate when books, movies, and series have instant love and within only 2 episodes, people are professing their love for each other or falling into bed together for a sexy good time. This mini series did not do that.
Instead it focused on the sweet moments that leave a bigger impact. There were many scenes (especially in the last episode) where there wasn't much dialogue. The focus is on the characters and how they are portraying what they are feeling in certain moments. While it could seem a bit slow at times, it got the point across and left a bigger impact.
Some people are not pleased with the ending because they feel it's not much of an ending to begin with. And while the ending is pretty open, I think it's a good ending. It leaves it open for a fuller series. And even if STAR Hunter Studios does not make this into a full series, the way it ended still makes sense. These two guys have only known each other for two or three days. So simply staying in touch is all that we can really expect as they hardly know each other. So I say good job to the writers.
I recommend this series. It's short and sweet and could be a great introduction to a bigger BL series. I don't really have any complaints about it.

I give this series a 4 out of 5 stars as it wasn't perfect, but still very enjoyable.
Watch on Youtube:
Episode 1 | Episode 2 | Episode 3 | Episode 4
Follow me on the interwebs: