Just like with all of my other reviews for Our Skyy, this review will contain spoilers.
So far out of the four Our Skyy episodes that I have seen, this was by far the silliest of the bunch. The whole time I was either laughing or rolling my eyes at just how dumb and silly things were. In this episode, Kao runs into an old lady that predicts that he will run into a stroke of bad luck and many things in his life will go awry including his relationship. She writes down a list of things he needs to complete in order to dodge the bad luck. After this, he sets out to complete the list with Pete.
The entire time, Pete has a major attitude because he thinks this whole ordeal is completely stupid. And I honestly couldn't agree more lol. Kao was having them do some of the dumbest things! Wrap up and lie still like a dead person? Hold hands every hour on the hour? Walk 999 meters?? Buy a tangerine tree and plant it together? Well…that last one doesn't sound so stupid. Moreso it just doesn't have anything to do with bad luck.
Anyway! They go through all that, only for it all to be one big fat lie. Kao lied about all of it and of course this pisses Pete off even more. And after things look to be getting worse, with Pete getting into a fight with a stranger, Kao finally tells the truth. He only did it because he wanted to spend more time with his boyfriend and make the day special.
Don't get me wrong, that's super sweet and all…but couldn't he think of things that were less weird and tiresome? Dragging Pete all over the city, all day long, in the hot sun, carrying a darn tree. If I were Pete, I would be upset about it too. But they hash it out after a big argument and even share a kiss.
Even though I like this couple, I am glad they chose to stick with a simple kiss and not an intense smexy one because I'll be honest….
Newwie can't kiss >_<
I'm not trying to be mean! But kissing scenes always look awkward whenever Newwie is in the picture so I am convinced that he is the problem lol. Sorry.
Overall, although it was funny, this one was probably my least favorite of the four Our Skyy episodes I've seen because it was just so…dumb lol. This episode honestly just felt like filler to keep the fans satiated until Dark Blue Kiss aired. I'm just super late at watching this.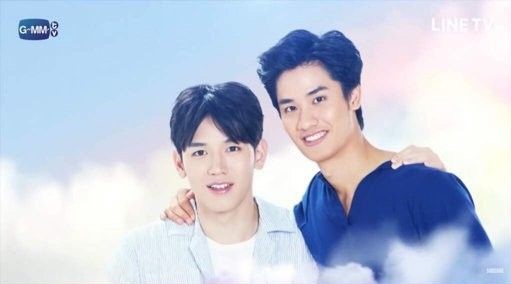 Previous Reviews:
Pick & Rome | In & Sun | Tee & Mork |
Follow me on the interwebs: